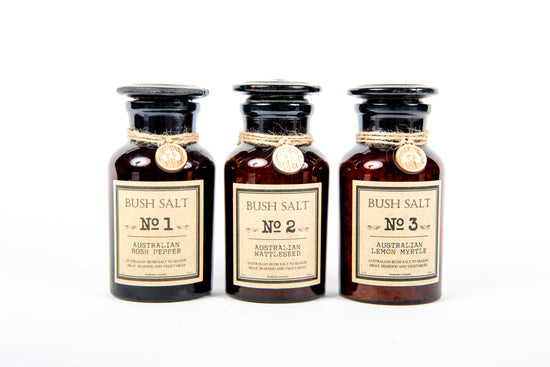 Australian Gourmet Food Salts
Regular price
Sale price
$34.99
Unit price
per
Sale
Sold out
Product Information

Product Description:  Our Australian Gourmet Food Salts are made to our own yummy tasted and tested recipe with quality true Australian ingredients & hand crafted in our apothecary glassware that is hand blown making each piece original and unique. When your salts are finished,  just wash in warm water and re-purpose your unique apothecary glass. We design all our products, lovingly hand craft and label them making all our body products unique.

Taste Description:

 

Gourmet salts made from Murray and Darling River artesian basin salt that is processed at Pyramid Hill in Victoria Australia complimented with unique Australian quality herbs.

Season meat, seafood and vegetables to your liking!

BUSH PEPPER: Australian Pepper Berries, Australian Pepper Leaf, Native, Thyme, Mustard Seed and Garlic. Amazing with lamb!

WATTLESEED: Australian Ground Wattle seed, Australian Pepper leaf, Coriander, Garlic and Onion Powder. Amazing with beef!

LEMON MYRTLE: Australian Lemon Myrtle, Australian Aniseed Myrtle, Native Thyme, Ground Celery Seeds and Garlic. Amazing with chicken!